I'm a sucker for year-end lists, and Bite Squad has fueled my fire with its most popular restaurant delivery picks of 2018, both for the country as a whole and for a good number of the recently acquired brand's top markets. The top four picks—wings, burgers, pizza and burritos—are no surprise, but the list gets more interesting after that.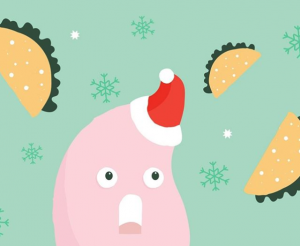 Looking at the country as a whole, the remaining top 10 most ordered foods include fried rice at No. 5, followed by pad thai, sushi, fajitas, cheeseburgers and curry. Bite Squad reports that drivers in more than 375 cities saw wings increasing in popularity the most, up 95 percent year over year.
Valentine's Day stood out as the company's number one holiday for couples ordering in, which is no doubt fueled by all the people who think the pressure of a Valentine's Day where reservations are hard to come by is maybe not worth the effort with steadily improving delivery options in most cities.
Bite Squad even provides top delivery picks by city, and my home city of Minneapolis saw a huge surge in the popularity of collard greens. Down in Gainesville, Florida, alligator dishes grew in popularity by almost 700 percent. Salad orders nosedived across the country in the wake of the romaine lettuce situation in November.
Brasa Rotisserie, which is one of my favorite restaurants, had a nice showing on the list—as its roasted chicken and pulled pork all travel fantastically well. Overall, my fair City of Lakes showed nice ethnic diversity that's a reflection of the growing acceptance of new food types, like Jamaican and Indian dishes, along with the universal appeal of mac and cheese and burgers.
For more data points and city-specific top 10 lists, visit Bite Squad to see where your town stacked up. Also, check out Nick Upton's similar piece on what industry leader Grubhub saw as last year's most popular delivery fare.