DoorDash is leading the online convenience category by a country mile, according to new transaction data analyzed by Edison Trends. After 2020, in which consumer spending at online C-stores grew by 346 percent, DoorDash ended last month with 58 percent share over second-place goPuff with 24 percent of the market.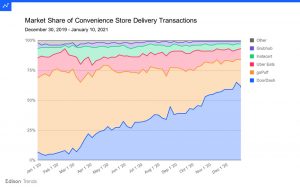 Trailing the segment leaders, Instacart and Uber Eats each had 8 percent of the online convenience market and Grubhub had just 2 percent.
Quarter-over-quarter growth showed DoorDash customers increased their convenience-store spending by 162 percent from the third quarter of 2020 to the fourth quarter as the pandemic continues fueling new consumer habits.
Noting that online grocery spending grew 121 percent and online restaurant sales grew by 112 percent during 2020, Edison Trends said "the convenience-store market is also poised for disruption amid Amazon's plans to launch 3,000 cashier-less Go Stores" in the near future. Grocery giant Kroger is also testing online convenience store formats, among other players moving into the space.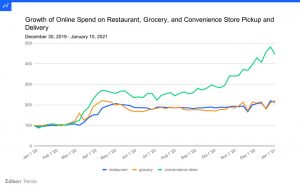 DoorDash's position at the top of the charts isn't surprising after opening more than 1,800 DashMart stores in 2020. GoPuff, an online retailer dedicated to the convenience market, raised another $380 million through an additional venture round last October, filling its war chest for another round of expansion.
Comparing how overall restaurant delivery sales and overall grocery delivery sales performed in 2019 versus 2020 shows that customers spent 27 percent more on online restaurant purchases than they did on online grocery purchases in the four-week period starting December 30, 2019 versus 33 percent more on restaurants than groceries in the four-week period starting December 14, 2020.
Edison Trends estimates that the convenience-store market is expected to increase 5.5 percent in 2021, which would translate to an estimated $33 billion in revenue.