It might not seem like a lot amid the billions invested in the grander food-on-demand space, but $545,900,000 in cumulative investment for essentially blank kitchen spaces is incredible and shows that investors are as hungry as ever to get a piece of the evolving foodservice landscape.
This vast sum also doesn't include the incredible amount of money delivery providers are putting toward their own ghost facilities. Deliveroo, for one, plans more than 2,000 such facilities across Europe. The Amazon-led $575 million Series G round will help pay for those kitchens, and tens of millions more have been invested in other global concepts.
In the U.S. DoorDash, Grubhub, Postmates and Uber Eats have all done their own kitchens, as well, with varying scope and tactics. Then, there are the many small operators trying this out in markets across the country, with many shared food production kitchens cracking the doors to hand off delivery orders.
Hudson Riehle, SVP in the research and knowledge group at the National Restaurant Association, said this resonates exactly with his research on search trends among young restaurant consumers.
"It's obvious that virtual brands are a part of the future, not just a trend. Millennials will search for menu items, not necessarily for brands. So, the upside for this is that we see pent-up demand," said Riehle during a panel appearance at the 2020 ICR Conference.
Hence the incredible investments, as seen in the chart below.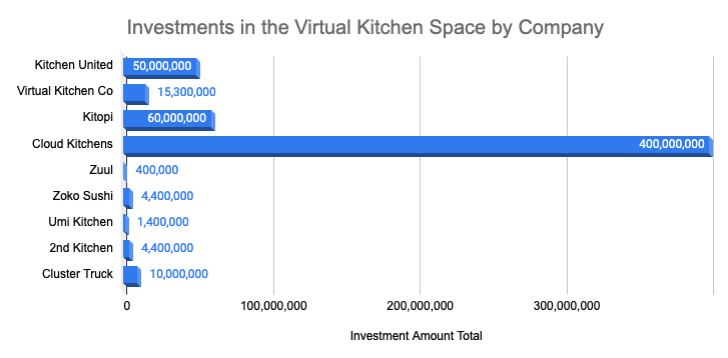 Cloud Kitchens' alleged $400-million bankroll from Saudi Arabia's sovereign-wealth fund makes up a huge portion of the market, but the recent $60 million infusion for Kitopi isn't exactly a pittance. The Dubai- and New York-based company that aims for 50 locations by the end of 2020 calls the "managed kitchen" concept franchising 2.0. It may also serve as an entree to the U.S. market for a handful of partner restaurant groups.
But the economics still aren't quite there because digital delivery is still a fairly small portion of overall foodservice. It's the fastest growing segment of foodservice by far and investors love growth. In a recent report from UBS, if digital delivery hits the high end of the equity research firm's guidance, the digital-food industry could reach $815 billion by 2030. That's a gain of 943 percent in the next 10 years from the $35 billion seen today.
That a delta that gets VCs, angels, hedge funds and high-net folks really excited.
Andrew Chen, general partner at venture capital firm Andreessen Horowitz, outlined his thesis on the company's investment in Virtual Kitchen Co. in a recent post.
"Food delivery has been transformative, not just for customers—but for restaurateurs, as well. For the restaurant industry, the opportunity is huge (at last count nearly $100B of orders worldwide)," wrote Chen. "On top of that, we are in the midst of technological change: marketing restaurants alone went from an era of newspaper ads and street signs—to countless online review platforms, Twitter and Instagram accounts, and digital loyalty programs. And delivery which once was limited to certain cuisine types has now become a baseline expectation for all restaurants. New delivery platforms deliver meals with the tap of a button—sometimes even by a sidewalk robot (and soon, maybe even via drone)!"
But this could also be a growing bubble and the investments might be pitching forward over those proverbial skis. John Gordon, the principal restaurant analyst and consultant at Pacific Management Consulting Group, said there are a lot of $1 million kitchens going up without the orders to support them or eyeballs to see them.
"For chain restaurants, they need to have a good-looking box, it is really true that a good-looking box with great visuals, that's more important than TV marketing. If you get a great site and execute well, that's important," said Gordon.
Of course, in some markets, real estate doesn't work, and nobody wants to leave their coveted parking spot. There, ghost kitchens make a lot of sense for delivery, catering and supporting satellite storefront or retail locations.
"There is only one New York City in the U.S., there are a limited number of places like that," said Gordon. "There's just not the density in these other cities that this model can work. I just wonder on the chain restaurant side, that, yes, some chains might be able to try it and go into a new market and use it as a test bed. But that would say they're only doing delivery in a new market, and I don't see that as much of a sales base that is present in the marketplace."
His advice: "Some of these investors should be careful."