Dan Unter has been on most sides of the restaurant business, including being a franchisee and a single-unit owner-operator for seven years, which is long enough to form a charbroiled opinion about the economics of an industry where it can take 10 years or more to see a return on investment. "That's not a business, it's a hardship," he said, explaining his new company, Kitch, that matches underutilized kitchen spaces with up-and-coming chefs or brands that need a place to cook but aren't looking to sign multi-year leases.
Based in New York City where rents are higher than the rest of the country, Unter said he's been in the industry long enough to "know what I don't like," and that includes feeling pressure to spend huge amounts of money to chase additional volume to grow a business. In today's  shaky business climate, with virtual restaurants and ghost kitchens adding new options for aspiring foodservice professionals, he said that Kitch is an ideal solution both for those ambitious hard chargers, but also for kitchen spaces that are either vacant or aren't being used every day of the week.
"Kitch is a marketplace," Unter said, describing the model. "We are building listings and we allow for you to put up a listing of your hotel kitchen, of your underutilized bowling alley, of your empty space that you're not going to get that 10-year lease again in South Florida or Albuquerque or wherever."
Because there's such a diversity of latent kitchen spaces, especially after the pandemic dealt a massive blow to the full spectrum of the industry from fine dining and casual restaurants to catering, Unter said this is the ideal time to bring a new solution to the industry that doesn't require signing long contracts or logistical challenges of ghost kitchens.
This inherent flexibility, he said, means that Kitch isn't just a fit for growth-minded restaurant brands, but also for entrepreneurs exploring food subscription services or consumer packaged goods that could be sold at grocery stores or retail outlets.
"This is a brokerless transaction," he added, noting that the company's model allows daily, weekly, monthly or yearly agreements that can be changed as circumstances dictate. That includes if the host facility needs their space back or, conversely, if the incoming lessee finds success and wants to scale up their operation or extend their agreement with the facility.
Clearly excited about the implications for an industry that often laments the ever-rising barriers to entry, Unter said Kitch is designed for "the people that we need in the industry: chefs, sous chefs, bakers, people that don't have friends and family money or corporate ties to afford a real kitchen, [they] can dip their toes in and became an entrepreneur through Kitch very easily and, like, with a 100 multiple cheaper than your normal course of action, even a ghost kitchen."
In his view, most any newcomer in the restaurant or foodservice business starts "behind the 8 ball almost immediately" due to the constraints of taking on investors or loading up the business' balance sheet with significant debt to get it off the ground.
"Kitch presents a whole new thing," he said. "Are we a stepping stone? Are we a means to an end? Are we the end? I think that all plays out however you want it to."
Connecting his concept to the ongoing rise of ghost kitchens, Unter said restaurant brands looking to enter new geographic markets could also employ a similar strategy by seeking out available kitchens in a new city, and then testing market acceptance rather than signing a contract with a ghost kitchen provider or going through the time, effort and expense of signing a traditional restaurant lease, which is riskier in new, unproven markets.
Asked about insurance implications on the host kitchen side of the equation, Unter said the company works with a group called Master Coverage that can provide daily, weekly or longer-term coverage, adding that approximately 90 percent of its transactions to date include a certificate of insurance on the guest side.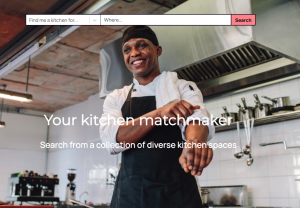 Kitch doesn't get paid by landlords, but instead has a revenue sharing model where it only gets paid when there's a deal struck. Unter said this financial model allows him and his team to remain "very clean and unbiased" as it works to help both sides of the matchmaking equation. Its typical fee is 10 percent of the total transaction, up to a one year term.
To date, Kitsch has done more than 25 openings, along with a number of other pop-ups, corporate events and smaller events, like chefs looking to do one-off events for small groups. "We've just launched our product in August, so this is happening really quickly," he added.
Because the company is just a team of four, they've previously focused exclusively on their home turf, but the pandemic has pushed "a tsunami of interest" in their direction that is pushing them to look beyond the big city for their next phase of growth.
Like a landlord looking to rent out an apartment—or any other situation where somebody is looking to rent something out—Unter said a little "spit shine" is often recommended to make the listing as accurate and representative for any interested parties. So far, most tenants are looking for combi ovens, slicers, basic prep and cold storage space. He noted that any additional or specialized equipment is just a plus that will help make a specific space stand out from the rest.
"If you're going to get $6,000 a month for your kitchen, you could spend $500 to get it ready," he said. "It's funny, because when you talk to brokers that have tons of properties, tons of empty restaurants in whatever market, they're like, 'Wait, so you can put someone in there month to month? What do I have to do to get it ready?' I'm like, just get it ready. Turn everything on, make sure it works, and their eyes light up."
Unter said that idea for Kitch was created before the pandemic, back when New York City was looking to pass a commercial vacancy tax. However the post-pandemic era shakes out, in the Big Apple and beyond, he said that there will unquestionably be scores of underutilized kitchens and talented chefs and bakers looking to strike out on their own, meaning that his business could be in the right place at the right time in the industry.
"It's this sort of new world of sharing," Unter said. "It's not impossible to share things, Airbnb has proven it, Uber has proven it. We can share all kinds of assets and do very well by them and well by each other as long as everyone's clear on what everyone is supposed to do—the rules of the community."