According to the latest market share update from Bloomberg Second Measure, DoorDash extended its dominance to 59 percent of the U.S. meal delivery market. In addition, sales from meal delivery apps grew another 6 percent year-over-year, with 51 percent of U.S. customers ordering from one of the major delivery providers in March of 2022, up from 47 percent a year ago.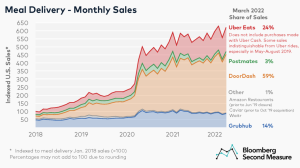 Uber Eats remains firmly in second place, with 24 percent of the U.S. meal delivery market. Grubhub and its subsidiaries, including Seamless and Eat24, came in third at 14 percent. The study notes that its sales metrics may differ from publicly reported earnings, that some Uber Eats transactions are indistinguishable from Uber Rides transactions, and that purchases made through LevelUp, which Grubhub acquired in late 2018, are also not included.
The analysis includes debit and credit card purchases from a panel of millions of U.S. consumers.
Bloomberg Second Measure's data also looked at average sales per customer on the various platforms, which has risen significantly since the earliest months of the pandemic.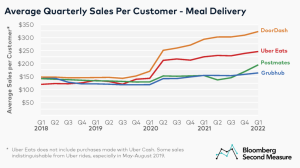 "In addition to more consumers ordering from food delivery services, the average sales per customer has increased at these companies during the pandemic," the study added. "DoorDash and Uber Eats have seen the most growth in average sales per customer over the past two years. At DoorDash, the average sales per customer in the first quarter of 2022 was 90 percent higher than the first quarter of 2020. For Uber Eats, the average sales per customer rose 72 percent during the same time period."
Check out the full study, which includes much more granular data, as well as additional context behind the market share and transactional shifts.