Remember when Pasqually's Pizza & Wings drew the ire of some customers after it was discovered the virtual brand was really Chuck E. Cheese in disguise? Applebee's, too, came under fire for the Neighborhood Wings menu it rolled out on Grubhub, but that reaction is so 2020.
A mode of menu and brand innovation that gained traction during the coronavirus pandemic has since become big business for restaurants and companies that create and license concepts that don't have brick-and-mortar counterparts.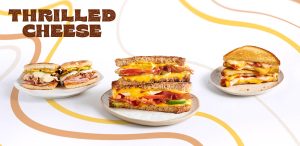 "I think right now is a really interesting moment in time because people are getting really comfortable and used to ordering from brands that only exist online," said Alex Canter, CEO of virtual restaurant brand platform Nextbite, speaking on a panel during the 2022 Food On Demand Conference. Delivery-only menus are no longer considered "deceitful or confusing" because they've become commonplace and the customer experience has improved, he continued. Consumers "care less about the fact that it's not brick and mortar," said Canter, but that doesn't mean restaurants should simply recast the menu and put it online under a different name.
Digital restaurant brands require major marketing firepower to build and maintain a customer base, said Robert Earl, co-founder of Virtual Dining Concepts. That's why VDC opted to tie many of its brands to celebrities such as singer Mariah Carey and YouTube personality MrBeast. The partnerships help create "famous and successful" intellectual property assets, said Earl, and then VDC brings its restaurant operations prowess.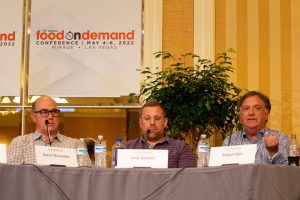 "The reason behind that is the cost of marketing," he said. "By us having these celebrities with huge reach, it allows consumers to stay aware of our brands."
"It's deceivingly complicated, the amount of investment it takes to market these concepts," put in Canter, who noted he sees many larger chains and franchises attempt to launch their own virtual concepts but fail to gain traction on crowded third-party marketplaces. Nextbite helps create and roll out delivery-only brands, working recently with IHOP on the debut of its Thrilled Cheese and Super Mega Dilla, which IHOP franchisees are testing at about 50 restaurants.
Aaron Noveshen, CEO of fast-casual concept Starbird, and founder and chairman of restaurant consultancy The Culinary Edge, cautioned against what he called "soundbite brands" and said restaurants ultimately need to be able to execute on the food. Product consistency and quality can suffer when a virtual brand is added to an existing restaurant's operations, an increasingly common approach.
Noveshen, who is launching a franchise program for Starbird and also runs virtual brands out of existing locations, said he takes a "train the trainer" approach and leans heavily on training videos to help operators integrate new brands into the kitchen.
Joey Simons, senior VP of operations for food tech platform C3, said the company will go as far as pulling a license for one of its digital restaurant brands—its portfolio includes Umami Burger and Krispy Rice among others—if there are major issues with product quality. "It's amazing how much you can mess up a burger," he quipped, adding C3 will first aim to retrain staff before resorting to other measures.
Staffing, noted Earl, should be a major consideration for restaurant operators eyeing incremental revenue from delivery-only menus. "Anyone out here who is thinking about a virtual brand, don't do it if it's going to increase your labor. It's not going to work," he said of the economics.
Check out more coverage from the Food On Demand Conference, held May 4-6 in Las Vegas.