Square announced a new standalone subscription to its kitchen display system, signaling an expanding need for better in-kitchen delivery tools.
Previously, the product was only available as part of the company's much larger Square for Restaurants Plus POS product.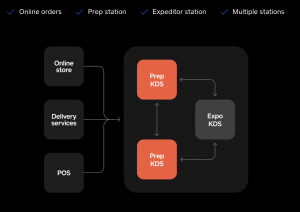 Kitchen display systems (KDS) are a replacement for paper ticketing systems. Most, including Square's, can integrate in-house and delivery orders into a single stream, an important logistics tactic to make digital delivery more efficient.
The move comes as the delivery-only market heats up. Companies including Applebee's, Denny's and Chili's have all developed delivery-only brands, while more native players like C3 are set to reach hundreds of locations in a variety of formats. Even Chick-fil-A is getting into the mix with their delivery-only brand Little Blue Menu.  
Because delivery-only concepts receive most, if not all of their orders online, they often don't need a traditional countertop point-of-sale (POS) system.
"Since my business runs on online and pickup orders, all of my physical space is dedicated to driving kitchen efficiency. I don't really need a POS system, and Square KDS can manage everything I need," said John O'Reilly, co-owner of UK-based takeout and delivery-only restaurant Burgerism.
Lior Karen, product manager for Square KDS, described the standalone product as "supplemental" to Square's product suite, which includes POS systems, online ordering, and on-demand delivery.
The standalone KDS will be available for $10 per month per device through the end of 2021, rising to $20 in January 2022. Square for Restaurants Plus charges $60 per month for the first device at a location, and $40 per month of reach additional device.
"Delivery-only options are a rapidly growing segment, wrote Karen. "We wanted Square KDS to be more accessible to more restaurant types — including those that have less complex operations, like delivery-only ghost kitchens."