Continuing its efforts to engage in open conversations with restaurant partners, DoorDash has appointed Stephanie Izard, chef and owner of Girl and the Goat, as its first chief restaurant advisor. She will work in an integrated advisory role for a period of one year, acting as a "voice of the industry" within DoorDash and what it termed "an influential liaison" between DoorDash and the restaurant industry.
As the chief restaurant advisor, Izard will be an instrumental part of DoorDash's culture and decision making to ensure restaurateurs have a seat at the table. The new chief restaurant advisor role is one of the ways the company is continuing to listen to its restaurant partners in an effort to serve them better and build a stronger relationship with local restaurants.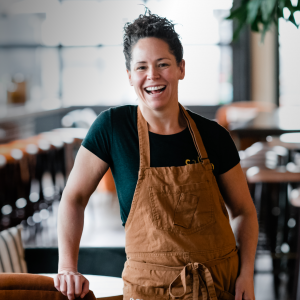 In announcing the new position, DoorDash said it's a continuation of recent efforts including its new pricing options for restaurant partners, its ongoing Main Street Strong program for merchants, Dashers and customers, as well as its Restaurant Advisory Council that brings together business owners, chefs and operators from across the U.S. and Canada to share feedback and input about the company's products and services.
Izard is a globally-recognized chef of Chicago's Girl and the Goat, a James Beard Foundation Award Winner, as well as a well-respected industry leader and operator who keeps a pulse on the day-to-day needs of local restaurants. Throughout the pandemic, DoorDash said she "has embodied the resiliency we've seen across the nation, finding ways to pivot rapidly to further grow her online channels."
As part of its announcement, Izard wrote a blog post expounding on what she hopes to achieve in the new position, pasted below in its entirety:
What I'm Looking to Achieve as the First-Ever Chief Restaurant Advisor At DoorDash
From Stephanie Izard, Chief Restaurant Advisor at DoorDash
As a restaurateur and entrepreneur, I've experienced the rollercoaster of the last year firsthand as the dining landscape continues to evolve—whether it's shifting from in-person dining to takeout-only nearly overnight, or getting excited about welcoming back familiar faces to our restaurants.
In-person dining was extremely limited since March of last year and I am grateful to have expanded my footprint with various services both locally and nationwide. This includes partnering with DoorDash to facilitate delivery for my restaurants and offering my This Little Goat line of spices and sauces to more households via DashMart.
Joining DoorDash as its first-ever chief restaurant advisor during such an important time, where optimism across the industry is bouncing back, energizes me. This is an opportunity that I don't take lightly, as I know that bringing the voice of the local restaurants to leadership is critical to enact meaningful change. DoorDash believes wholeheartedly that it needs to "make room at the table" and "think outside the room" each and every day, and the chief restaurant advisor role is one of the ways this is being accomplished.
During my one-year role, I'll be regularly liaising with both internal and external teams as chief restaurant advisor, including DoorDash executives, employees, and local restaurants. A few of the ways this will happen in practice are:
Attending meetings with DoorDash leadership and providing input on strategic business decisions and product updates.
Hosting industry roundtables bringing together leaders of the independent restaurant community and DoorDash to facilitate productive conversations and identify areas of opportunity.
Joining DoorDash's Restaurant Advisory Council meetings to lead discussions and hear directly from a diverse group of restaurant operators and owners across the United States and Canada.
One of my personal goals is to have as many conversations with local restaurants in the first few months, not only to hear about their needs looking ahead, but also to form impactful relationships to foster transparency. Looking ahead to the rest of the year, I'm excited to return for the second time as a keynote speaker at DoorDash's annual Main Street Strong Restaurant Conference.
This is only the beginning of my tenure as chief restaurant advisor and I'm excited to see how the role will evolve, with advising as a first step, as we look at the potential that lies in the year ahead for the restaurant industry.