C3's newest culinary community now comes with an app focused on generating first-party orders. The operator of more than 200 ghost kitchens and brick-and-mortar restaurants partnered with Lunchbox to create the Citizens Go mobile app, allowing customers to order food for pickup directly from their ghost kitchen, bypassing third-party marketplaces.
The Citizens Go app provides meal delivery and pickup options across C3's network of more than 200 ghost kitchens, which includes Graduate Food Halls, brick-and-mortar restaurants and the soon-to-open Citizens food hall at Manhattan West. Available for iPhone and Android users, the app currently offers delivery in Los Angeles, Northern California, New York City and Chicago, and will expand in cities across the country, including Miami, Austin, Portland, San Francisco, Seattle and Atlanta in the coming months.
Beyond C3's digital brands like Krispy Rice and Sam's Crispy Chicken, the app includes smaller restaurants the company has purchased such as Soom Soom, turning the app into an "IP tech platform" helping restaurants reach new audiences and connecting them directly with consumers. Each brand in Citizens Go will also be integrated into C3's pipeline of food halls, ghost kitchens, co-working spaces and airport kiosks.
C3 calls the application a first-to-market technology that leverages Lunchbox's technology to connect consumers directly with the restaurants providing financial benefits through lower delivery commissions, while also allowing the company to collect customer data.
Nabeel Alamgir, founder and CEO of Lunchbox, the New York-based restaurant technology company known for its anti-third-party messaging, said the Citizens Go app means pickup and delivery diners at C3's food halls won't have to compromise on what they eat, as there's something for everyone available in one convenient platform.
Discussing the new partnership, Alamgir bounced from concept to achievement to passion fast enough to give any reporter whiplash. Inversely, his enthusiasm is contagious, and Lunchbox reflects this creative energy as they strive to break restaurants' third-party dependence on a wider industry level down to this latest partnership.
"I was always trying to chase Sweetgreen, build what Sweetgreen has built," he said. "They're the best in the business, their system looks beautiful, it was always so hard to build it on Lunchbox so I decided we're going to build it ourself for our restaurants. So, we built a web marketplace."
While the mission of leaving third-party delivery/ordering companies is expressed through comical graphics, Lunchbox is serious about widening restaurant margins. According to Lunchbox, for a $100 Grubhub order, a restaurant will see a $5 profit margin. By their math, the same order fulfilled through Lunchbox should yield $25 in profit to the restaurant.
"That's our big mission," states Alamgir, "to empower restaurants to take ownership of their guests and have at least half of them come through [the restaurant's] website."
While third-party delivery charges restaurants a portion of the total order value, often between 20 and 30 percent, Lunchbox charges their restaurants a flat rate that averages around $200 per month.
Lunchbox's ability to leverage marketing and ordering technology to improve restaurant margins caught the eye of C3 in October of 2020, leading to the companies' collaborative creation of the Citizens Go mobile app.
"We built a C3 cloud concept," says Alamgir, "marketing, loyalty, all for restaurants and while half of what we do is for our own company, the other half is marketing and this is what we want to do for restaurants. While most restaurants do 10 or 15 percent first-party digital sales, our customers do 54 percent direct ordering."
C3 is launching food halls in Manhattan's West Side and Phipps Plaza in Atlanta's upscale Buckhead district, with tentative plans to launch locations in the neighboring suburbs.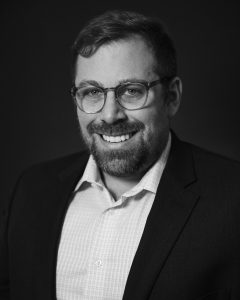 "Citizens Go is planning to expand our popular brands further into the suburbs where there tends to be only fast-food options and limited access to gourmet cuisine," says C3 senior VP of operations Joey Simons. "Since our menus offer a variety of options—from tempura nori tacos to the Impossible truffle burger and ice cream—customers of all demographics can find something to satisfy their cravings."
With pandemic restrictions nearing an end, the national revenue generated from food delivery is expected to fall, but likely not to its pre-pandemic state.
"We believe delivery is here to stay, though the pandemic accelerated demand and preference, mobile ordering has become a staple in customers' daily routines," states Simons. "The delivery market has become increasingly competitive as it begins to stabilize, however, C3 is continuing to stand out due to our in-person experiences that help build brand loyalty and our partnerships with some of the world's leading chefs."
With major real estate partners including Simon and Brookfield Properties already in its back pocket, C3 lining up additional technology partners will continue setting the company apart in the high-value urban markets it intends to disrupt.