After soaring through the pandemic, Starbird has dramatically scaled up its small footprint and grown same-store sales 36 percent during the first half of 2021 as it begins to franchise the upscale fast-food brick-and-mortar brand, which also includes four successful virtual restaurant concepts under its wings.
Started in San Francisco in 2016 by Aaron Noveshen who bills himself as a serial entrepreneur and is also the founder and CEO of The Culinary Edge consultancy, Starbird hails from a more opulent, supportive nest than most fledgling upstarts.
"Starbird is a culmination of 20 years of consulting to all the top restaurant companies and making a lot of people a lot of money," Noveshen said of leading the brand, which takes up the bulk of his attention these days. "Allowing our team to walk the talk—that's been the last five years of building this brand—and it's nice to be skating to where the puck is going."
The hockey reference points to an omni-channel strategy that has quickly become a common industry template, especially among high-growth QSR and fast-casual restaurant brands pairing traditional restaurants with complementary virtual concepts based on similar ingredients.
With nine "streetside" brick-and-mortar locations open in and around the Bay Area, Starbird is also a tenant in ghost kitchen facilities in San Francisco and Oakland. It is also operating within the San Francisco International Airport, as well as inside Levi's Stadium, home of the San Francisco 49ers.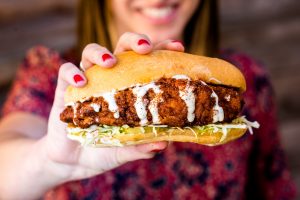 While "positively delicious chicken" is the foundation of Starbird, with tenders, sandwiches and tacos forming the flying V, the company's Starbird Salads, Starbird Bowls, Starbird Wings and Gardenbird plant-based VRs are significant contributors to the brand's average unit volumes. Noveshen said they provide a "double-digit" contribution to sales within traditional restaurants and, inside ghost kitchen facilities, it's "over 50 percent" of total sales.
"I've been doing this for a long time, and to be up 75 percent on a two-year basis when we were already doing well is kind of mind blowing," he added of the company's recent sales growth. "And straight through the pandemic and right out the other side of it, in an area that is probably one of the most strict in the country as you can imagine…that was pretty awesome and we feel really grateful."
For other restaurants looking to expand through ghost kitchens, Noveshen said "the minimum break-even is higher than anyone thinks, number one." The new, emerging economic model in such environments, he added, are prime costs plus delivery, since more than 90 percent of all food coming out of ghost kitchens originate and are fulfilled by third-party delivery providers with the requisite commissions. Because of that, he and his leadership team are "huge advocates of operating multiple brands out of our ghost kitchens, all of which seamlessly integrate with each other—that's the key, we've learned."
While Starbird is still working to encourage customers to order directly through its higher-margin, native delivery channels, Noveshen said it's difficult competing with subscription services like DoorDash's DashPass that are proving increasingly popular with customers, both from economic and convenience standpoints.
"We appreciate the exposure we get, certainly for our virtual brands through the third-party players—most of those orders come through 3PD and we're OK with that," he added. "We just gotta find the right balance of cost structure to ensure we can be profitable and the partnership works."
Looking to the horizon
As the brand prepares to spread its wingspan even further through franchising, the company plans to open two more brick-and-mortar locations during 2021 and 6-10 additional locations during 2022, with the bulk of its focus on California, including the Los Angeles market.
Starbird expects to sell its first franchises in the first quarter of 2022, but the company was unable to provide details on the cost for prospective operators to buy into the system. It is working with Pivotal Growth Partners for assistance in creating its franchising framework and to draft its franchise disclosure document, commonly known as an FDD.
Beyond its home state, Noveshen said the company is committed to maintaining an asset-light approach, which he said the market has highly valued in recent years. That approach means that both company- and franchisee-owned units will both be part of the company's future, but the brand would eventually seek some type of liquidity event to reward early investors that he assured will be "taken care of," along with the company's team members whose career growth he is personally invested in.
"I've from day one said…you're investing in this not to grow some company and be part of it, you're investing money because you would hope to get some form of return over time," he stated.
As San Francisco continues to lag behind other U.S. metro areas in terms of repopulating its central business district, Noveshen said his team is paying close attention to their own sales numbers and customer habits to spot any emerging trends.
Thus far, he expects Starbird and other brands with a "great digital footprint" and a history of creating a frictionless off-premises experience to retain at least 80 percent of pandemic traffic levels, even though dine-in and traditional takeout and catering are not coming back as fast as they would like.
He added, "We're still way up in ways, like, any of it coming back is incremental, so if you had it dialed in and you're really good at it and you made peoples' lives easier, that's not going away."