At this point in American technological competence, I tolerate little less than perfection. My rideshare service will meet me exactly within the agreed upon time. My ramen takeout will come with one spicy bomb, two garlic bombs and disposable chopsticks, and my grocery will stock a selection of local IPAs that I receive via curbside. These are luxuries I can't seem to unlearn. Using a map on a road trip is a thing of the past, as is ordering over the phone or writing home. Which begs the question: How much more convenient can life get?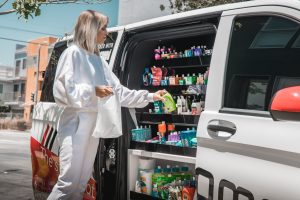 Robomart interjects themselves here. Wouldn't it be even more convenient than curbside or delivery to just bring the essentials to you? Essentially a corner store on wheels that debuted at CES in 2018, Robomart is still refining its offering as it rolls into other verticals beyond pharmacy and convenience store goods.
"The next will most likely be the grocery," states Robomart CEO and co-founder, Ali Ahmed. "That's something we're very excited about. Having produce and milk, bread, eggs and other essentials come to you in an average of four minutes. But right now, we've launched pharmacy and snacks. Snacks in particular has the same refrigeration setup and it's something we're testing before deploying it on the grocery Robomart."
A food and goods delivery service that brings the store to you, Robomart utilizes refrigerated vans stocked with either pharmacy items or snacks that can be summoned by their app. The van arrives to the pickup point set by the customer, the door opens and all that's left for the customer to do is take their choice of essentials and leave.
"Our fastest engagement was four minutes, so that's not drive time," says Ahmed. "That's from start to finish, from the time you hail the app to the time you have your products. You don't have to create a basket, so you're not wasting 20-30 minutes—yesterday I heard from someone it took them an hour and a half to create a grocery basket online, just for delivery, we do away with that whole process—you're simply tapping a button. You can see what the Robomart stocks, but you're not making a basket."
Additionally, the Robomart model allows for customers to choose their own goods in person as opposed to relying on a deliver driver to use their best judgement on substitutions. And, because the vans are already stocked, it's a brief one-stop trip to get to the pick-up location.
"Pricing is at par with store prices, and we charge a single hailing fee, which right now is averaging around two dollars—but there's no tipping, there's no additional services. This absolutely could serve underprivileged communities."
While the current appeal harbors on the driving convenience stores, Robomart has an opportunity to make a difference. This business-model could serve customers living in urban food desserts with limited access to transportation. However, Robomart currently operates in notably wealthy districts such as West Hollywood and Melrose, but it's expanding.
"We cover West Hollywood down to Melrose, and as we expand, we can grow that operating zone," says Ahmed. "We're focused on California right now…and the plan is to expand through California and down the line, the next market after California will likely be the East Coast."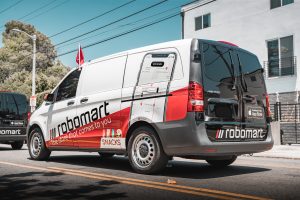 The East Coast expansion plans are likely in response to Robomart's funding coming from New Jersey-based investment management firm SOSV, and Baltimore-based startup accelerator W Ventures. Ahmed also stated that Robomart has several investors on the East Coast. As Robomart expands its reach it intends to diversify the products offered in its delivery vehicles.
"So, we track all the data that's crossing through our sales channel, and it helps us to inform the stock selection. We're not the retailer, we work with merchants who sell their product through our channel, through Robomarts. And so, we provide them back with the data that helps them determine what's the best assortment from market to market."
Product data will come into play most significantly for the food service vehicles, as location can greatly impact the popularity of some foods, whereas pharmacy items such as mouthwash and hand soap are largely universal.
"We define the Robomart type and then the assortment can vary within that type, like pharmacy, snacks and grocery, but then it can be tweaked to better serve the communities with the products that they want."
Robomart also has plans to release driverless cars once California permits their commercial use.