Starting with a BBQ joint in Chicago that closed due to the pandemic, DoorDash is rolling out a new program to help restaurants reopen as delivery-only locations. It's the first partnership in the delivery brand's new "Reopen for Delivery" initiative to help restaurants reopen without the typical, arduous overhead costs of a traditional brick-and-mortar location.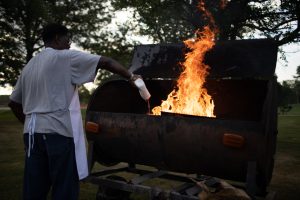 Krazy Hog BBQ, owned by Victor and Dana Cooksey, was a restaurant in the far-southern Chicago suburb of Glenwood, Illinois. Known for its rib tips and "Magnolia Sweet" sauce, the restaurants closed in the wake of the executive order closing the state's restaurants for indoor dining.
"We could plan for our futures, but we couldn't plan for the pandemic," said Dana Cooksey. "The first thing I thought of when I heard the executive order in March was, 'Who is going to feed our customers? There was a massive fear factor – the future was uncertain and overnight our business came to a halt."
Through this new partnership, DoorDash worked closely with the Cookseys and virtual kitchen operator Á La Couch to help the Krazy Hog reopen as a new, delivery-only concept. The restaurant's staff will continue to cook their food, and Á La Couch will prepare and assemble the orders for delivery. As DoorDash puts it, "The new location, operating out of Á la Couch's Lincoln Park facility, will reintroduce the feeling, flavors, faith and familiarity of Krazy Hog while helping them reach new customers for the first time."
With Reopen for Delivery, DoorDash is providing another option for restaurants to come online with additional infrastructure, marketing and last-mile logistics support so that merchants can focus on keeping their communities fed.
"I like to think of DoorDash and delivery—as the new potluck," Dana Cooksey added. "The experience is and will always be the food – my grandma's sauce, the sides, the platters of my dad's meat—it's just about how to get it to you. We see our business shifting towards virtual parties and gatherings in this new world but the heart and soul remains the food."